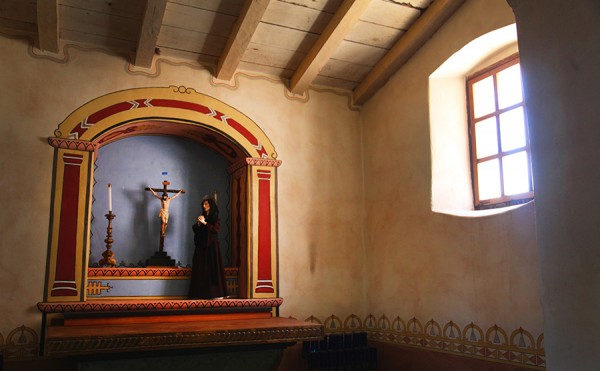 Mission San Antonio de Padua
San Antonio de Padua, founded on the 14th of July, 1771, is nestled in the Santa Lucia Mountains on the Fort Hunter Liggett Military Reservation, and as such, constitutes one of the best preserved and most pristine of the missions on the Monterey Bay.
As an early American landmark of Spanish colonial origin, San Antonio retains many of its original art works and artifacts, and its several-acre grounds boast an intact aqueduct system and water-driven mill, reservoirs, out buildings, cemeteries, and native rock art.
Participants will be oriented to the archaeology of the Mission Indian or Neophyte Housing Area by project archaeologist Robert Hoover in an effort to characterize indigenous life ways and the political economy of the era; and will then be introduced to the challenges of historic preservation, and the conservation of Mission era art and artifacts, by renowned art historians and conservators Almerindo Ojeda, Director of the Project for the Engraved Sources of Spanish Colonial Art (http://colonialart.org/archive), and Carol Kenyon, Mission arts conservator and curator at Mission San Antonio de Padua.