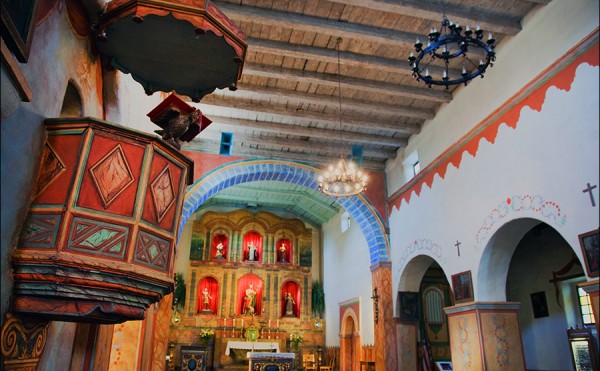 Mission San Juan Bautista
San Juan Bautista, which includes buildings and features dating to as early as 1797, boasts an historic central plaza which anchors the former cuartel or Soldiers Barracks (1814) converted into the Plaza Hotel in 1856, the monjerio or nunnery (1824) subsequently converted into Plaza Hall in 1856, the early American era Livery Stable of the same period, and the Castro-Breen Adobe of 1838.
The Alameda, or Third Street, boasts panoply of late 18th century Spanish and early 19th century Mexican-Indian adobes, early American milled-lumber and adobe vernacular forms, Victorian, Greek Revival, Western False Front Commercial, Italianate, New England, Mission Revival, Mediterranean and Spanish Colonial Revival architectural styles.
The nearby San Juan cemetery constitutes a treasure trove of noted and notorious historical personalities ranging from the earliest Hispanic Californio settlers of the valley through to the survivors of the ill-fated Donner Party expedition of 1846 and their many descendants. Interest in this historic cemetery has drawn high school teachers and scholars into developing a demographic database housed with the San Juan Bautista school district.
The nearby Luck Museum of the San Juan Bautista Historical Society in turn features an extensive and largely untapped wealth of historic documents and photographs featuring the Old Mission and community.